Meet our speaker - Anna Maria Anders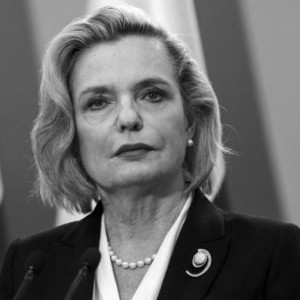 Anna Maria Anders
Senate of the Republic of Poland

Anna Maria Anders
Senate of the Republic of Poland
BIO
Anna Maria Anders is both a Senator and Secretary of State in the Government of Prime Minister Mateusz Morawiecki. On 15 January 2016 she was appointed Plenipotentiary of the Prime Minister for International Dialogue.
Anna Maria Anders is the daughter of General Władysław Anders, Commander in Chief of the Polish Armed Forces during World War II and the legendary leader of Poland's II Corps which he commanded at the renowned Battle of Monte Cassino in 1944. Her mother was Irena Renata Anders, the famous singer and actress whose stage name was Renata Bogdańska.
Anna Maria Anders was born in London, England. She graduated from Bristol University with an Honors Degree in Modern Languages. She also has a Masters in Business Administration (MBA) from Boston University in the United States.
After completing her education, she worked as an Account Executive in a financial PR and advertising company in the City of London. Subsequently she was employed
in the Communication Department of UNESCO in Paris. In 1980 she joined the Rezayat Group. Based in Paris the company had business interests in the Middle East, Asia, Europe and the United States. In 1994 Anna Maria Anders relocated to the United States with her family.
When her mother passed away in 2010 Anna Maria Anders took over her duties travelling regularly to Poland and participating in various State and military ceremonies.
In 2014 Anna Maria Anders was awarded the Gold Cross of Merit by former Polish President Bronisław Komorowski for her work on behalf of Veterans Associations and for popularizing the history and achievements of the Polish II Corps. In 2015 she became an Honorary Member of the Association of Siberian Deportees. Senator Anders is also an Honorary Member of the Reserve Officers Association of Poland.
As a Polish Senator and the Plenipotentiary of the Prime Minister for International Dialogue Anna Maria Anders frequently represents Poland abroad. The fact that she was born in the United Kingdom, has lived in several European countries and spent many years in the United States enabled her to make numerous contacts abroad and resulted in her being connected to Polish people worldwide.
In March 2016, in a by – election Anna Maria Anders was elected to the Senate of the Republic of Poland in district 59 the northeastern flank of Poland which includes: Augustów, Grajewo, Kolno, Mońki, Sejny, Łomża, Suwałki and Zambrów.
Anna Maria Anders represents Poland in the "Woman Political Leaders" (WPL) organization whose goal is to encourage a greater participation of women in public office and support women's rights all over the world.
In Impact'18 Agenda
Day II 14.06.2018 Thursday 14:25 – 14:45
Stage: S1
Track: digital state
Moderated discussion
"The magic of diasporas. How immigrant networks can help companies to grow and go global?"
---