Meet our speaker - Jadwiga Emilewicz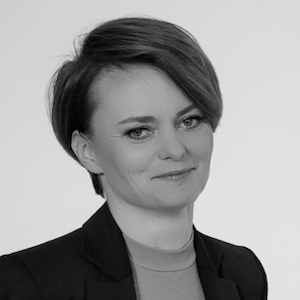 Jadwiga Emilewicz
Sejm of the Republic of Poland

Jadwiga Emilewicz
Sejm of the Republic of Poland
BIO
Jadwiga Emilewicz was born on August 27, 1974 in Krakow as the daughter of Antoni and Zdzisława Szyler. In 1993, she passed her high school diploma with honors at the II Secondary School named after King Jan III Sobieski in Krakow.
Graduate and PhD student at the Jagiellonian University, lecturer at the Fr. Józef Tischner in Kraków and the director of the Museum of the People's Republic of Poland in Nowa Huta. Co-founder of the quarterly "Pressje". A scholarship holder of the University of Oxford.
At the turn of the 1990s and the beginning of the 21st century, she operated and cooperates with many social initiatives – the Terttio Millenio Institute, the Jagiellonian Club, the Center for Political Thought, and the Widsor Group.
Since 2003, she has been working as a lecturer at the Fr. Józef Tischner, and in October 2011 she opens her doctoral dissertation devoted to the analysis of politics and power on the example of the local government reform of 1998. The interest in the local government resulted in a publication written together with Artur Wołek – "Reformatorzy i politycy. The game for the political reform of 1998 as seen through the eyes of its actors."
In 2009, she undertook the mission of creating in Krakow the first museum devoted to the modern history of Poland, the period of the People's Republic of Poland. In less than four years, together with the team she has built, she has managed to conduct a dozen or so exhibitions, a large social campaign reminding people from all over Poland of Nowa Huta.
Work in the Department of Foreign Affairs of the Chancellery of the Prime Minister in the years 1999 – 2002, when Jerzy Buzek was the prime minister. A quick course in politics and administration in action.
In 2014, she was elected to the Małopolska Region Parliament, a member of the Innovation and Modern Technologies Committee, the Culture Committee and the Regional Development Committee, Promotion and International Cooperation.
On November 27, 2015, she was appointed Undersecretary of State in the Ministry of Development. On January 9, 2018, Jadwiga Emilewicz was appointed the minister of entrepreneurship and technology in the government of Mateusz Morawiecki, becoming the head of the newly appointed ministry. On November 15, 2019, she became the minister of development in the second cabinet of Mateusz Morawiecki, and on April 9, 2020, she additionally took the office of the vice-president of the Council of Ministers.
In Impact'18 Agenda
Day I 13.06.2018 Wednesday 11:10 – 11:35
Stage: S1
Track:
Moderated discussion
"Let's AI the world! The power of women in tech"
---
Day I 13.06.2018 Wednesday 13:15 – 13:30
Stage: S1
Track: industry 4.0
Keynote
"Creating a framework for digital industry – the Polish Industry 4.0 Platform "
---
Day I 13.06.2018 Wednesday 17:40 – 18:00
Stage: Challenger arena
Track:
Moderated discussion
"Public Spaces & Local Communities role in Climate Change Fight"
---
14:20 – 14:35
Stage:
Track:
Fireside chat
""
---
15:20 – 15:40
Stage:
Track:
Moderated discussion
"Capitalism: have we reached its limits?"
---